Flat Roofs and Flat Roof Repairs for Galway
We highly recommend using hot bitumen and non rip polyester felts to counteract problems created by flat roofs covered in traditional felt in this modern day environment.
Better than use loose chippings we use aluminum solar reflective solutions. You can walk on this type without penetrating the felt. Damage is caused by walking on loose chippings. Water may seep through the felt. Damage in the supporting joists is usually down to decking rotting because of this water damage. Our systems prevent this from happening.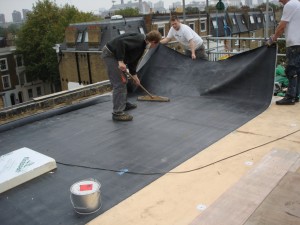 By far the best flat roofing system available we offer a mineral surface non-rip top cover finish with a fifteen year guarantee.
Galway Accredited Roofing are experts in flat roof replacement and repairs. All our work is of the highest standards and you can expect a long guarantee.
Rubber Roofs
Now introducing EPDM Rubber Roofing in Galway and West Ireland.
Galway EPDM Rubber Roofing is now getting more and more enquiries every month.
EPDM Rubber roofing, because of its high versatility and reputation in U.S.A and overseas for not only flat roofs, but also on all seals in the car industry too. Its strongest values are its weather, heat and ozone resistance.
Please contact us for a free no obligation quotation and survey for your flat roofs.
There is no reason to convert your flat roof to pitched !!

We can also line Gutters, Guttering and Valleys on factories and commercial premises as well as domestic homes as EPDM Rubber comes in 250mm, 500mm, 750mm and 1 metre width rolls all self adhesive.
FREE Guttering!
with all new roof replacements